2022 Community Benefit Foundation Recipients
Greenbank Services Club is a not for profit Community Club, every cent goes back into your local community. On Thursday 24th March, we were proud to present the following organisations a total of $85,000!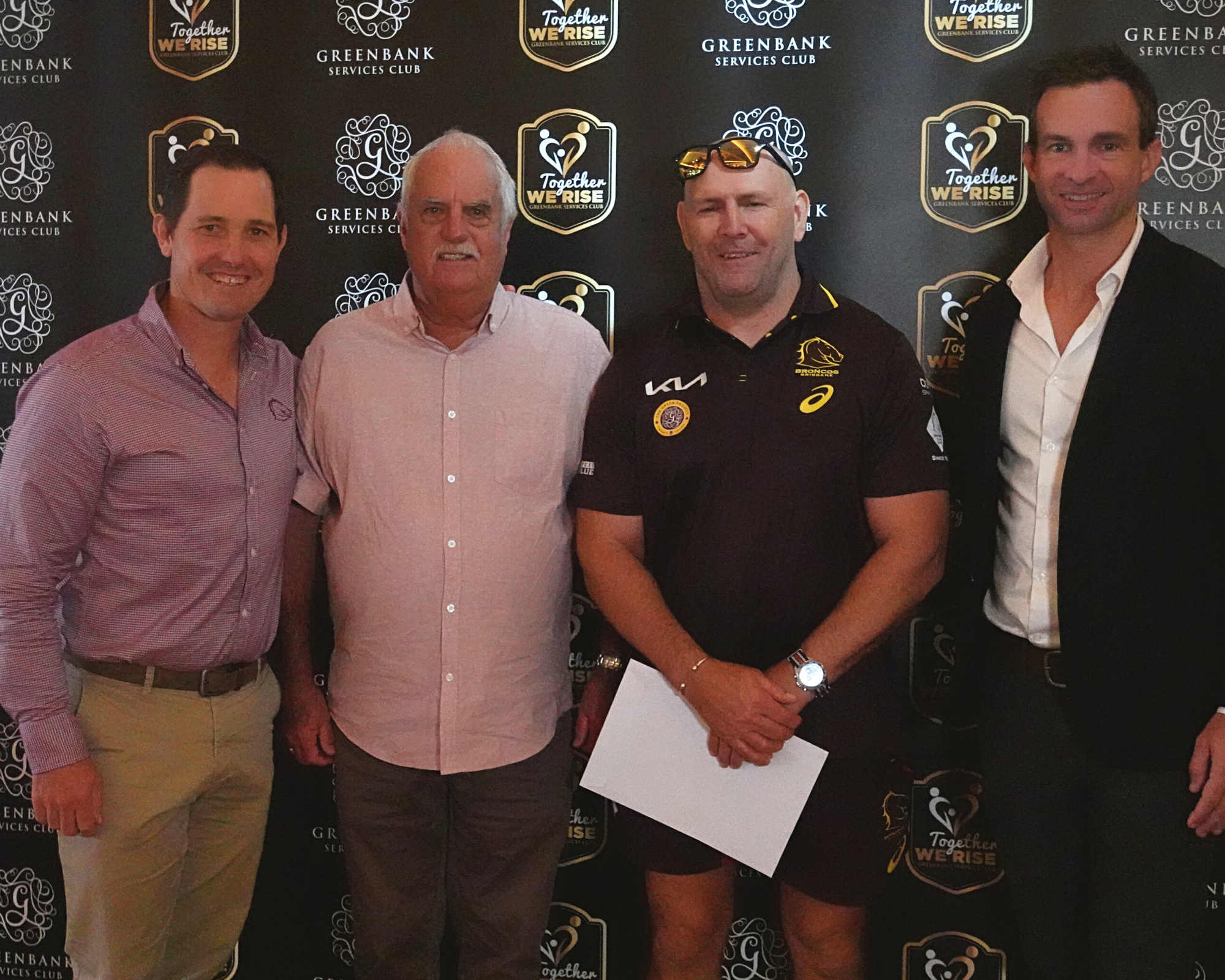 We also had the chance to celebrate Michael Hancock reaching a 20yr milestone working as your local Community Game Development Officer in the Logan Region. Michael runs a program that provides many varying initiatives to the Logan area, including rugby league specific skills coaching, mentoring and life-skill readiness programs as well as financial support to local charitable organisations or not for profit sporting clubs. Join us in congratulating Mick for all his hard work & dedication over those years! Follow his work the dedicated The Green Project with Mick Hancock.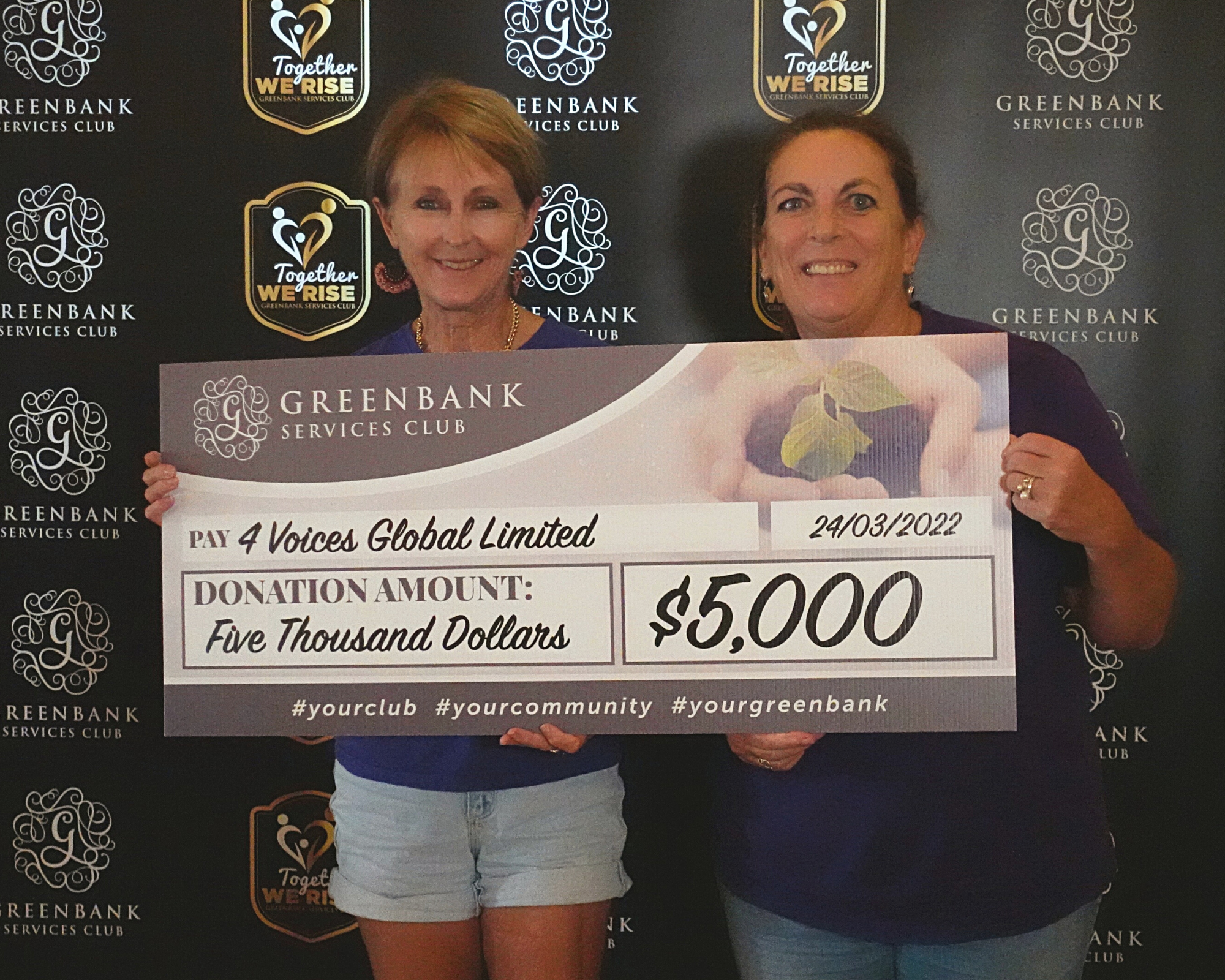 4 Voices is a Brisbane based organisation offering connection to girls and women who are experiencing, or at risk of experiencing social isolation, domestic and family violence, homelessness and digital exclusion.

Helen and Jill from 4 Voices accepted a $5,000 grant. This grant will be used to fund staff and resources for a weekly shift to support these women in need for a whole year.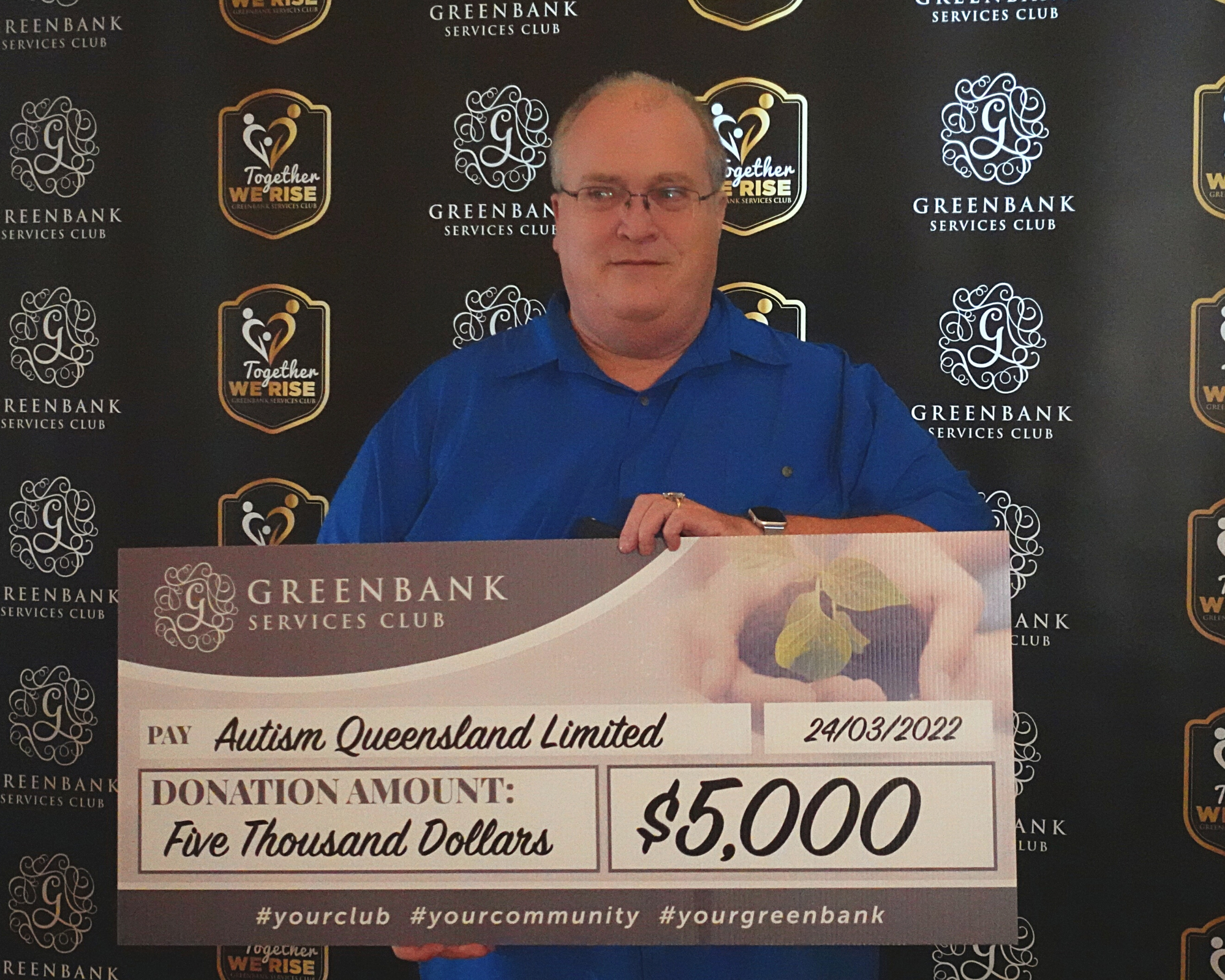 Autism Queensland provides a comprehensive range of education, therapy and support services to assist children and adults on the autism spectrum, their families, carers and others supporting and working with them.

Kendall from Autism Queensland accepted a $5,000 grant.
Browns Plains Police Station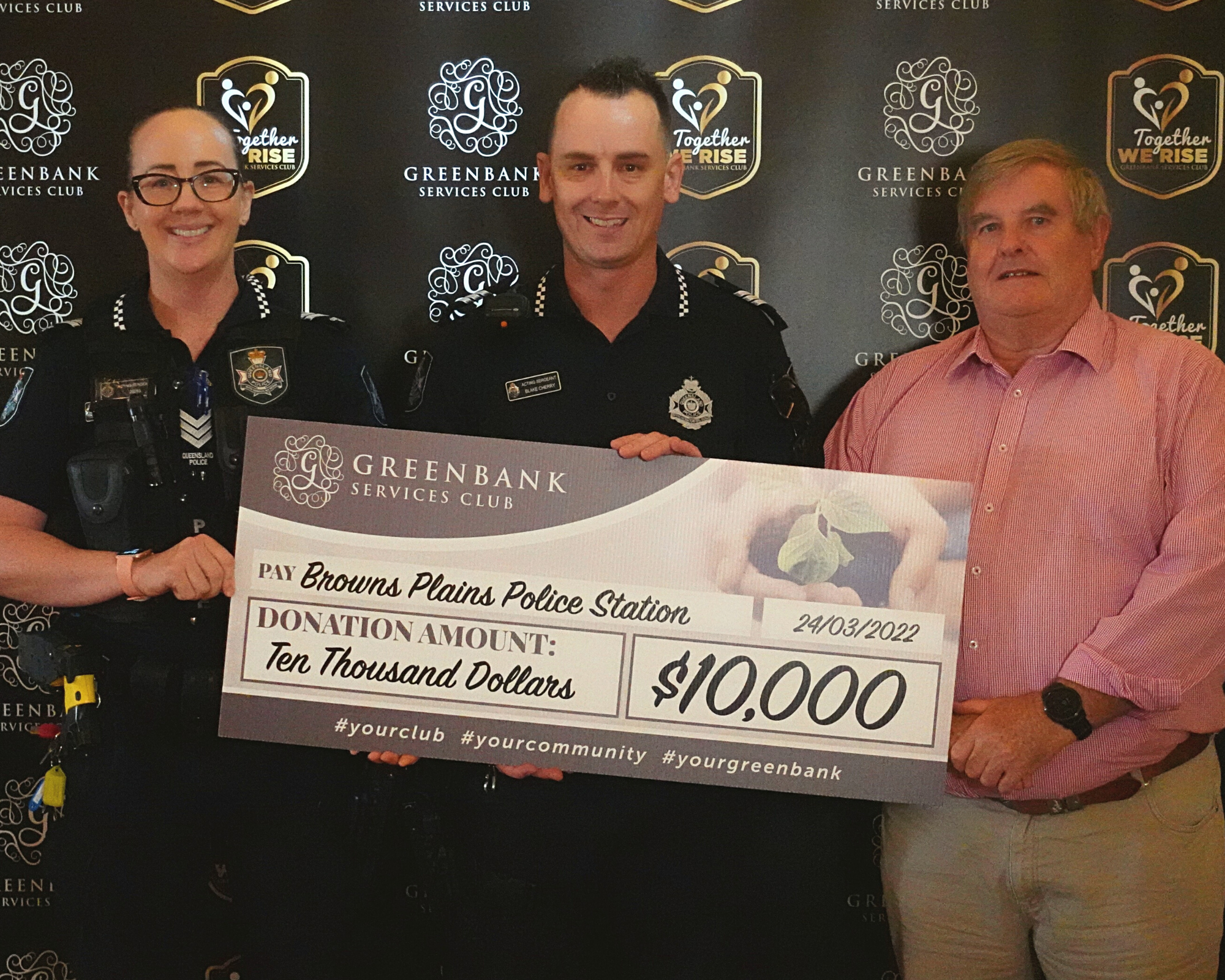 Rebecca and Blake accepted $10,000 on behalf of the Browns Plains Police Station social club. The grant will go towards building a wellness centre to take care of the mental and physical health of the local police.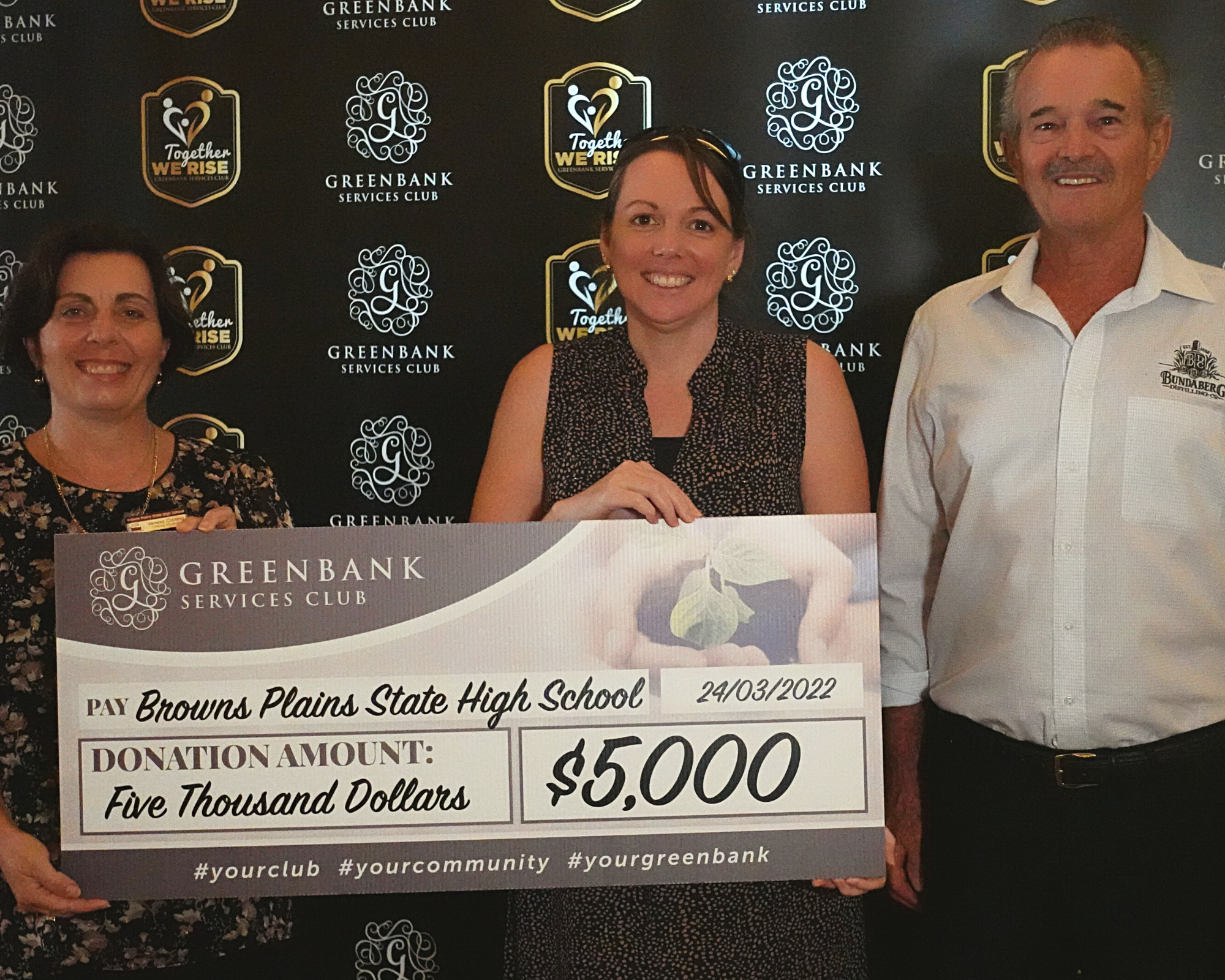 Vice Chairman of the Greenbank Services Club Board of Directors Tom McGee handed over a cheque for $5,000 to Deputy Principal Venesa Comino and Keryn Clark from Browns Plains State High School.

The money will be used to purchase instruments for the students of Browns Plains State High School.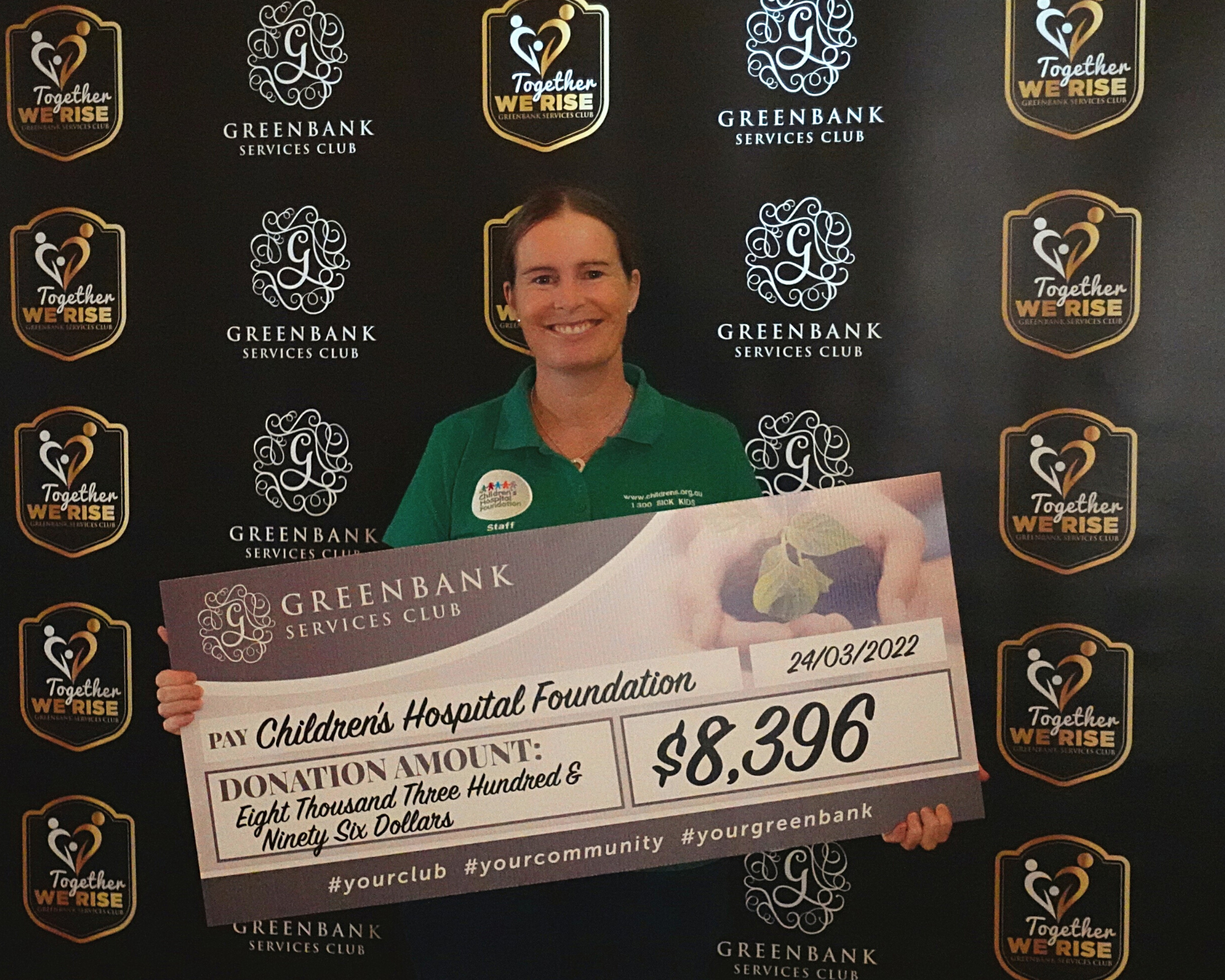 The Children's Hospital Foundation's Senior Accountant Brooke accepted a donation of $8,396 to improve kids rehabilitation and fund important research to support the health of children.

The Children's Hospital Foundation is the charity dedicated to raising funds for Queensland's sickest kids, proudly working alongside the Queensland Children's Hospital and state-wide with Children's Health Queensland.

The Children's Hospital Foundation works wonders for sick and injured kids by providing support and entertainment for children and their families in the hospital and funding vital research and new equipment.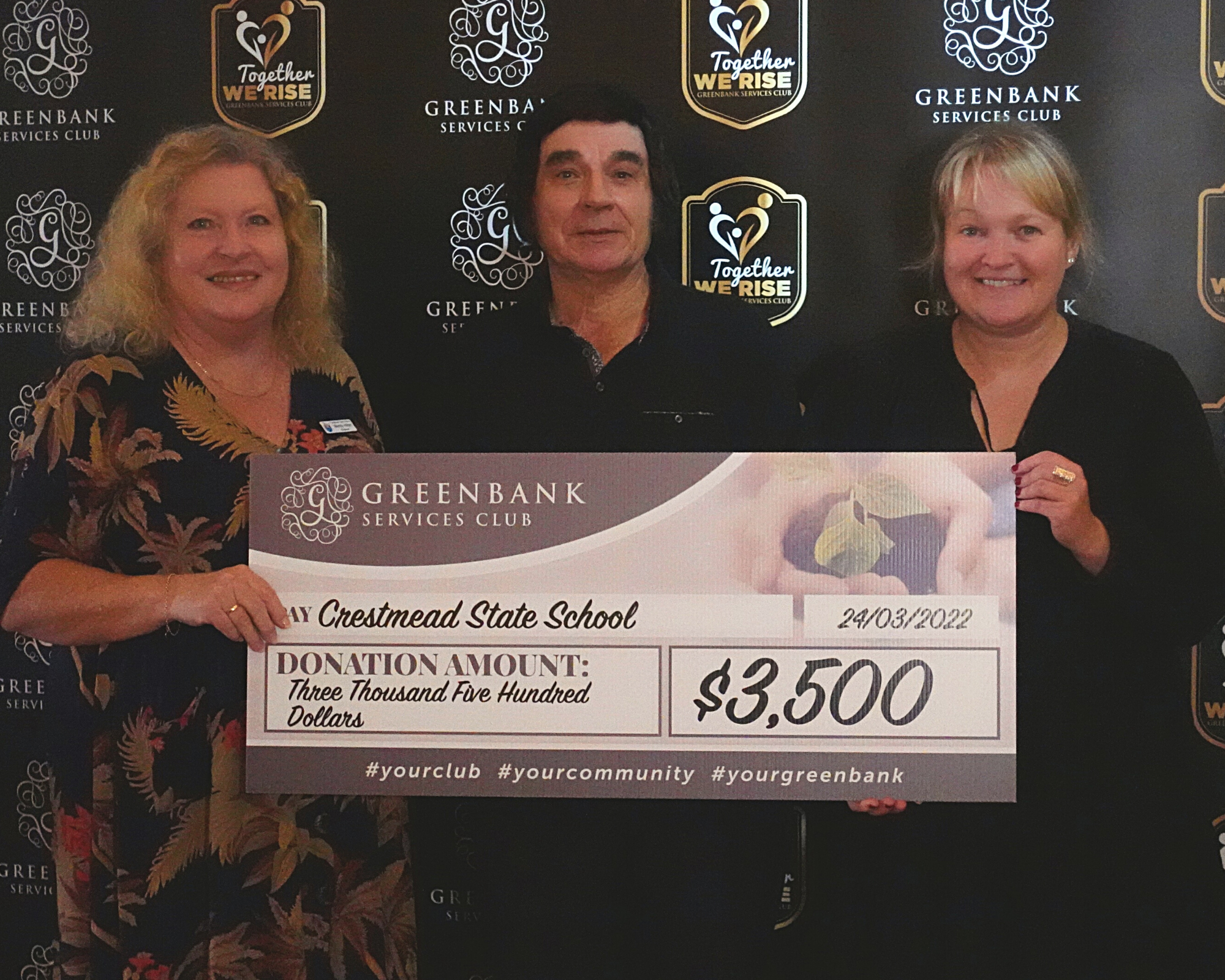 Crestmead State School representatives Wendy and Kim accepted a cheque for $3,500 from Board Member Michael Papalia. The money will go towards new work books for their school program 'Seasons of Growth,'
Any remaining funds will be used to buy essential supplies such as uniforms, lunches and school supplies for in need families.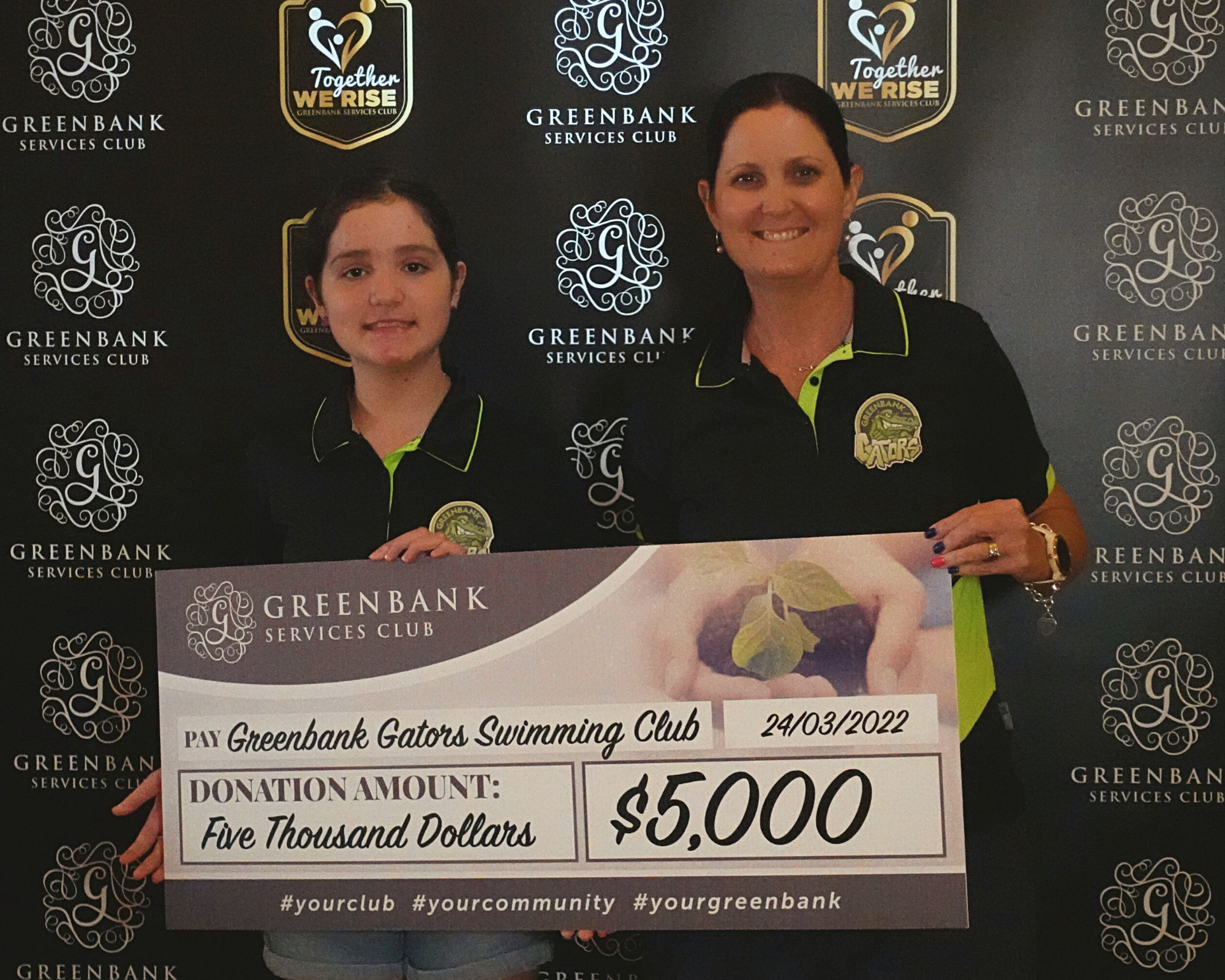 Greenbank Gators President Natalie Wilcocks, who is also the Councillor for Division 11, with her daughter accepted a donation of $5,000.

The Greenbank Gators are a small swimming club formed in 2018 that has grown from 25 to 61 swimmers since its inception. The money will be used to buy a new laptop and gazebos to help the club continue to grow and function.
Kingstones Music is an innovative disability support service empowering teens with disabilities to be their best through music.

Kingstones director and founder Kelvin and Chanel accepted a donation of $5,000 to help them continue to provide their service.

Kingstone's talented performers have provided the entertainment here at the Club on Wednesday Community Day entertainment.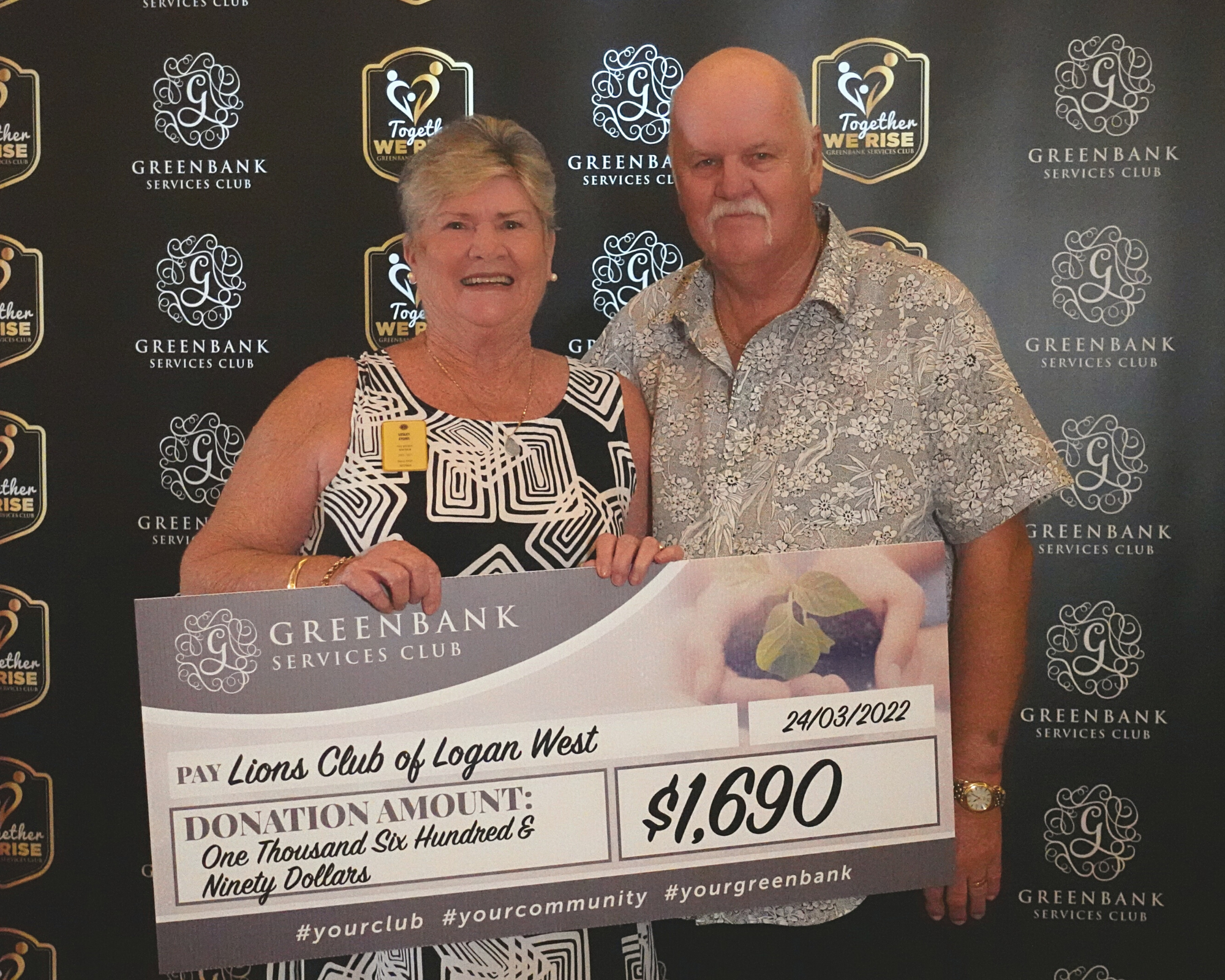 Board Member Jeff Smith granted $1,690 to Dave and Leslie on behalf of the Logan West Lions Club.

Their aim is to make the community a better place to live, work and grow. The money will be used to purchase 15,000 instruments for an orchestra they funded in a local school.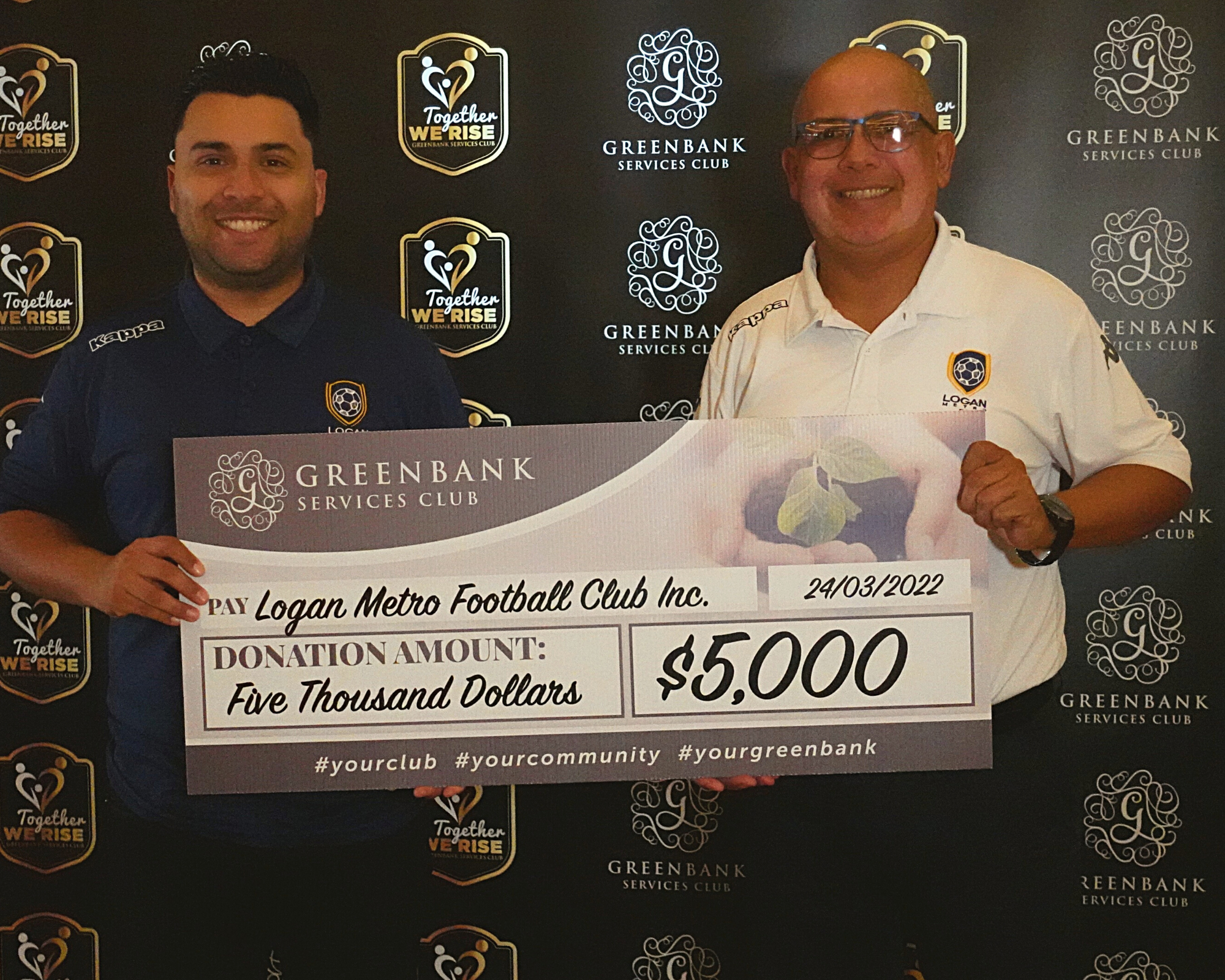 Sam and Samuel from the Logan Metro Football Club located in Woodridge recieved a grant of $5,000 for a new mower and equipment to maintain their fields.
Logan West Meals On Wheels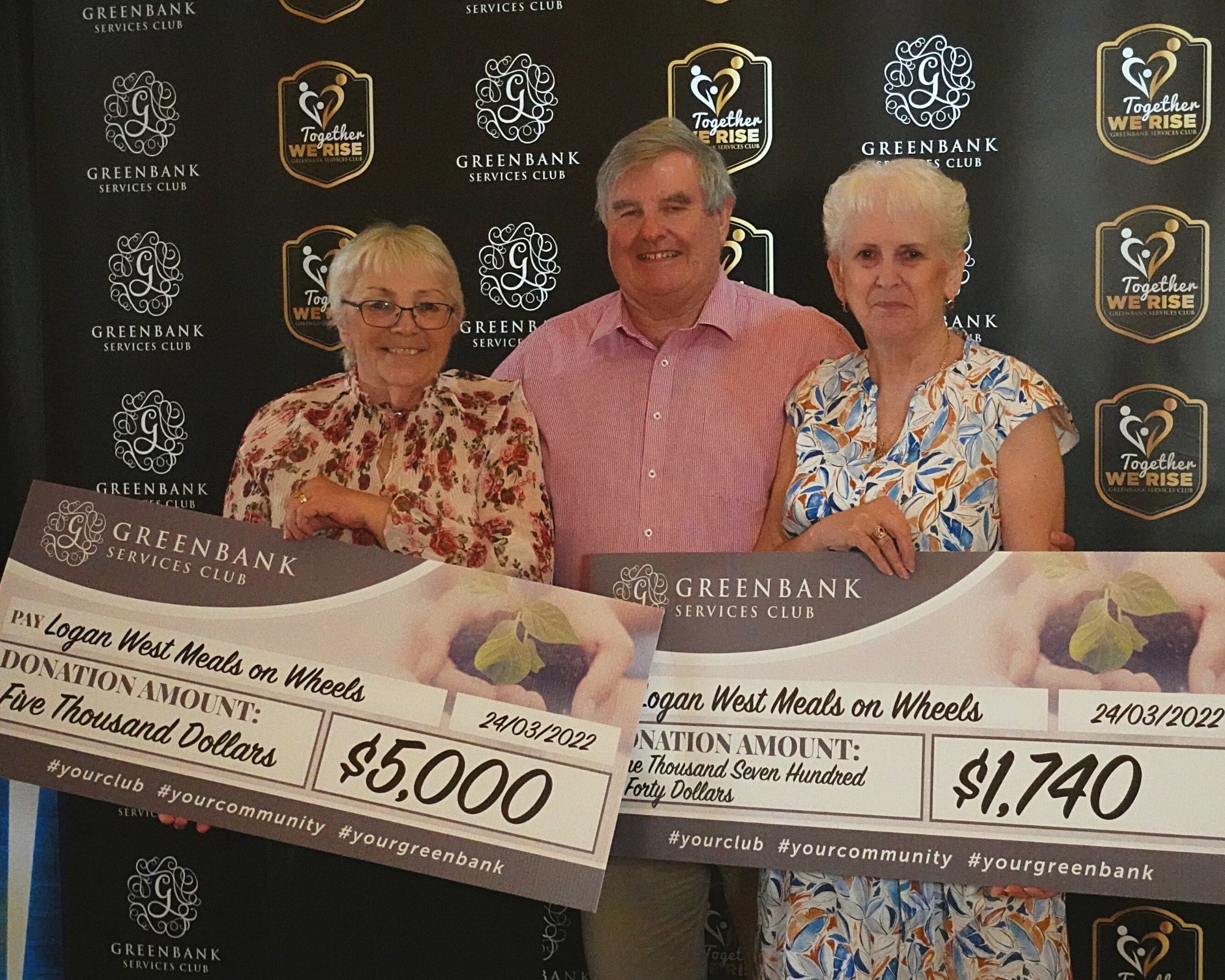 Logan West Meals on Wheels president Bev Wood accepted a donation of $1,740 for their Christmas hampers last year and an additional $5000 to update their kitchen and appliances.
Logan West Meals on Wheels are in need of volunteer delivery drivers. If you can lend a hand contact
[email protected]
St Vincent DePaul - St Bernadine's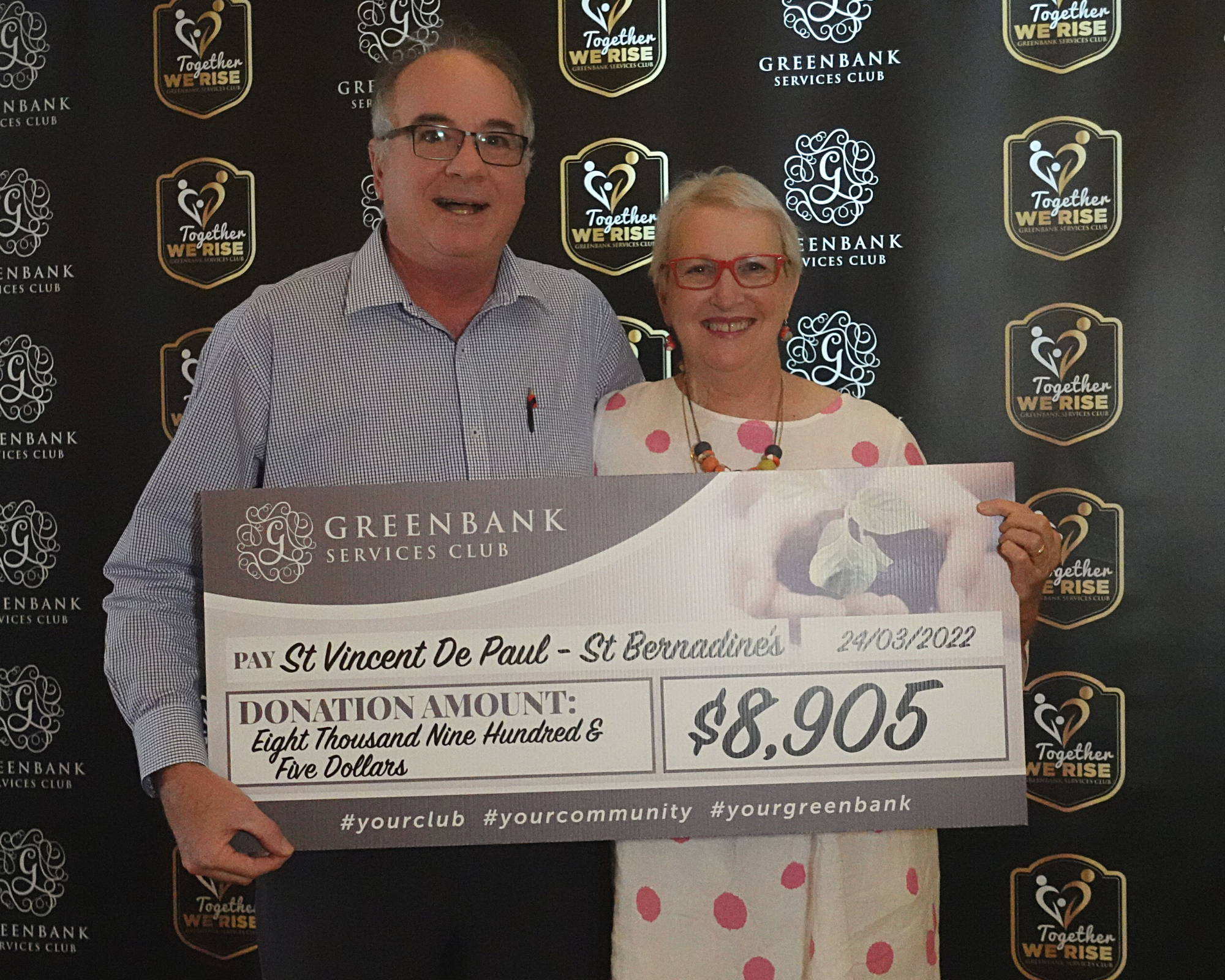 Diane from the St Vincent De Paul Society – St Bernadines accepted $8,905 for a new pantry which will allow them to buy food in bulk and distribute food more efficiently and to a larger number of families in need in the area.

Their St Bernardine's branch helps around 15-20 families a week doing it tough.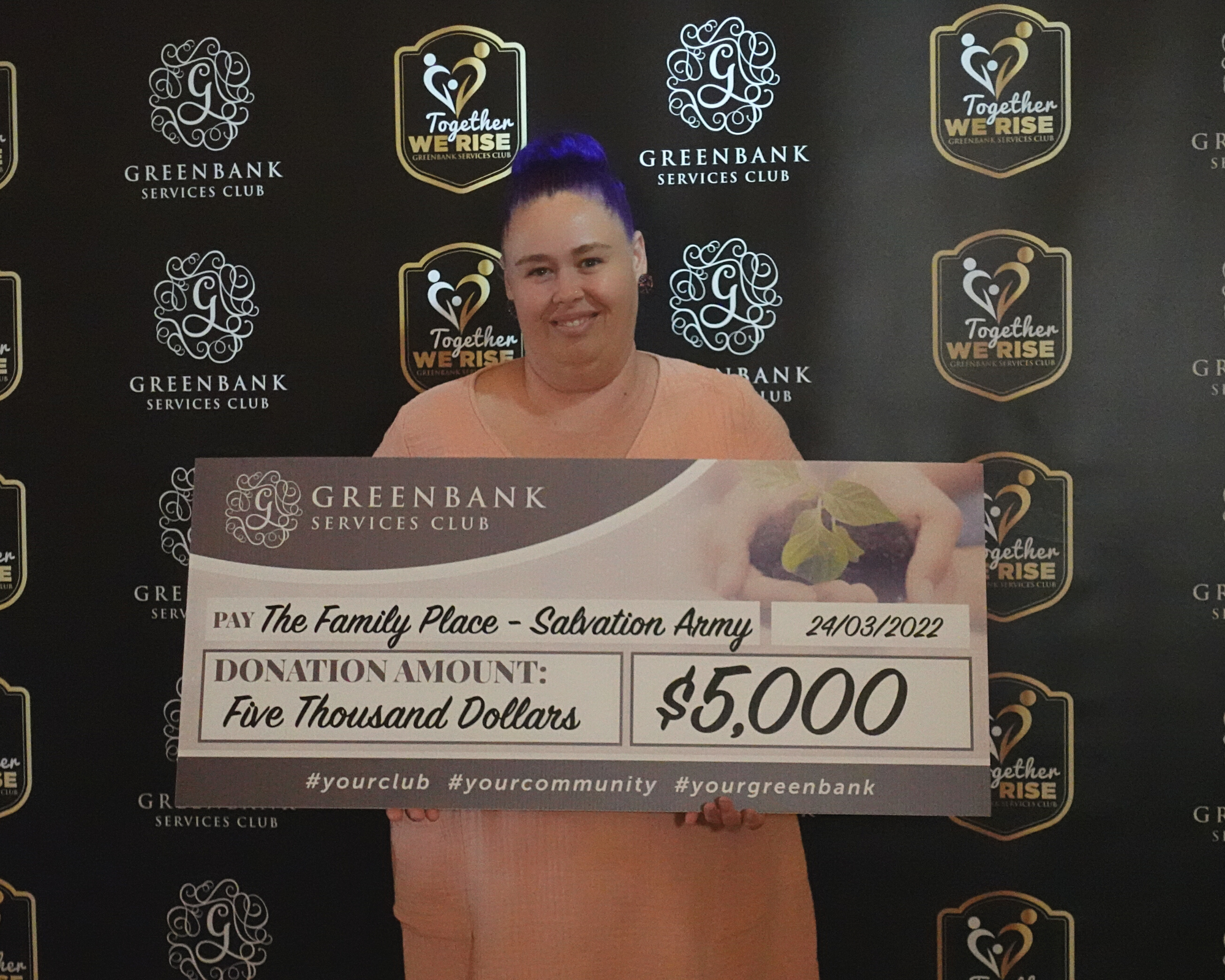 Bec from The Family Place – Salvation Army in Woodridge accepted a grant of $5,000 to help them continue to help parents and children through early intervention services, parenting support and playgroups.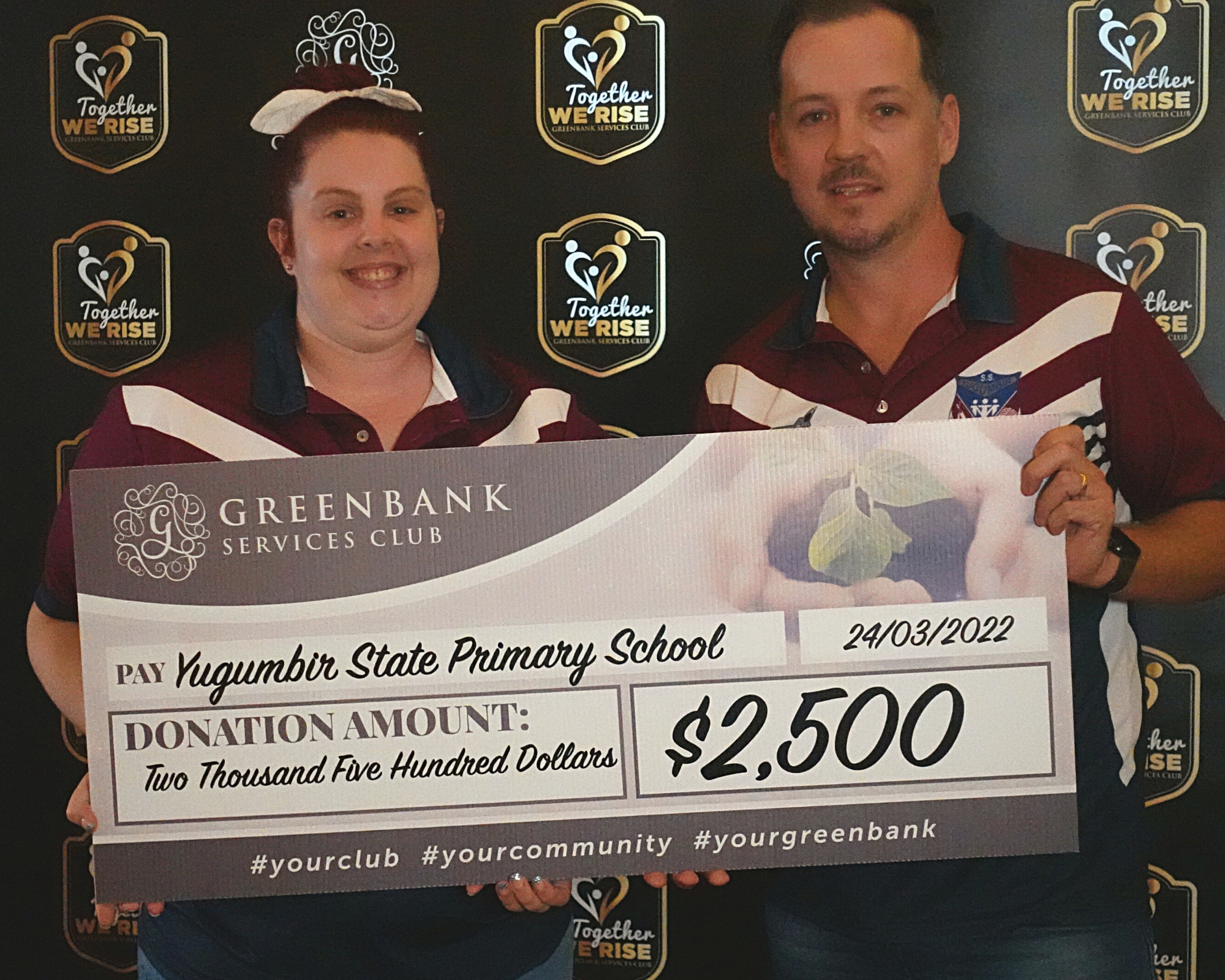 Beau and Katherine, head of the schools Yugumbir Jets program, accepted $2,500. This grant will go towards their new Rugby League program which seeks to increase participation in physical activity in youth.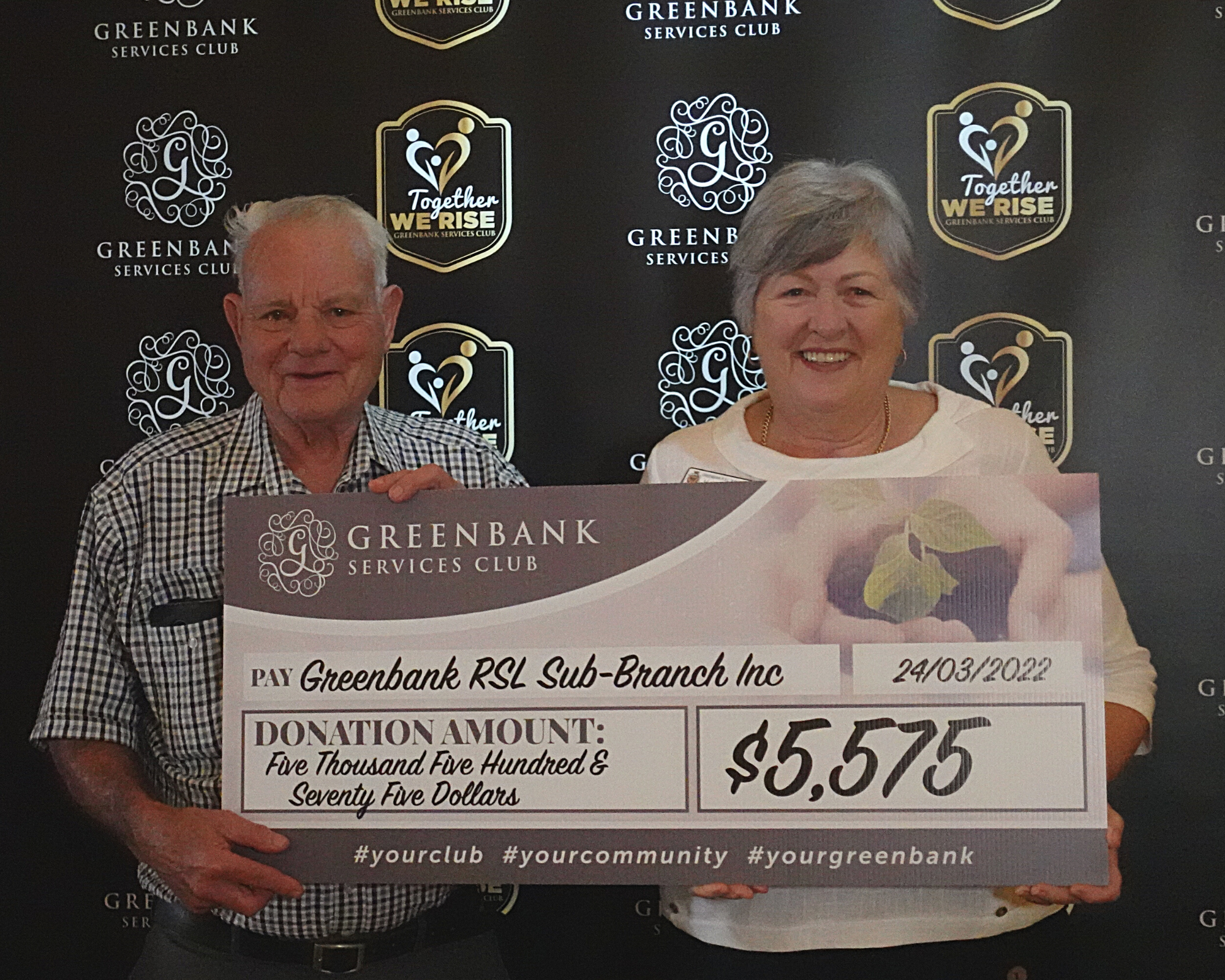 Greenbank RSL Sub-branch members Doug and Helen accepted $5,575 on behalf of the club which plans to go towards the Gallipoli Medical Research Foundation operating at the Greenslopes Hospital.

The research institute aims to enhance the health and wellbeing of the veterans and their families and the wider Australian community through innovative medical research.
PCYC Crestmead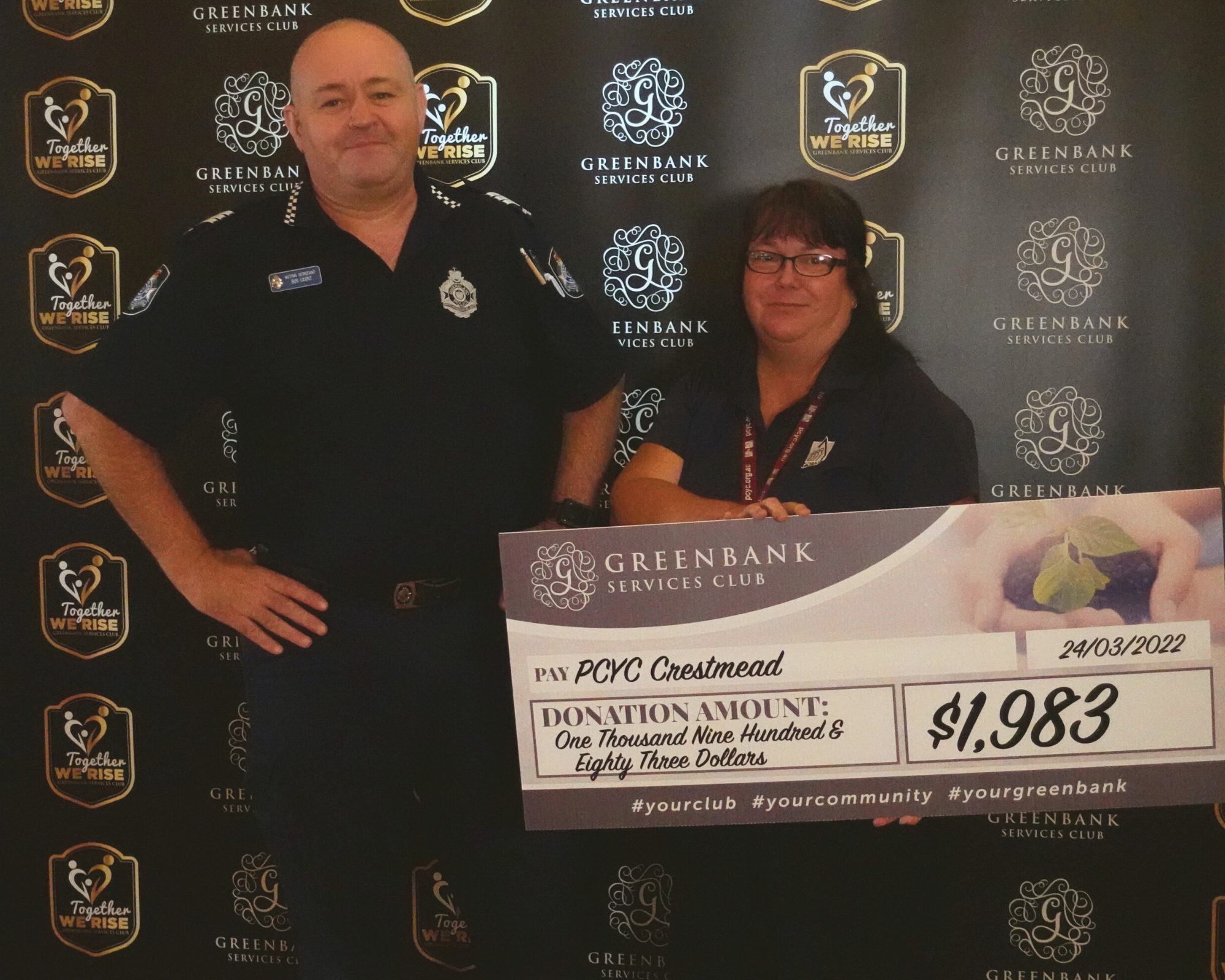 Karen and Bob from PCYC Crestmead accepted a donation of $1,983 which will be used to create support packages with toiletries and food, for at-risk youth who connect with the PCYC.
Congratulations to all the Beneficiaries. Thank you to our Wonderful Members for your continued support.